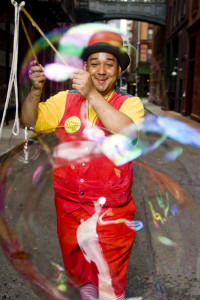 I'm Loony Toony The Clown, I have performed thousands of Birthday Parties and Private Events for well over FIFTEEN years! Whether the party is for your child's 5th birthday or their 10th, they will always REMEMBER it.
It's my job to make sure that memory is a positive one, for both you and your child!
Kid's really enjoy a decidedly silly approach to magic, they want more than to just be amazed, they want to be entertained! I have spent years developing my act, to work on many levels, with laughs for kids of all ages.
I perform many types of shows from small family gatherings to large town festivals. My clients include Macy's, FAO Schwarz, The New York Ranger's in the Garden and many, many more!

Clown4Party